>> Tuesday, June 24, 2008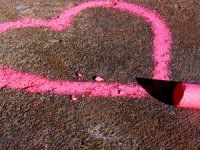 I found this on The Childrens Nest blog. I had to try it out since my boys are obsessed with sidewalk chalk. We seriously go through buckets of the stuff. I have to say that I'm sooo impressed with this recipe. So easy to make and the colors are sooo vibrant! Look at the heart. Isn't that awesome? Make it up with your kiddies today! Hours of fun to come!
Materials needed:
2 2/3 cups quick setting Plaster of Paris
1/2 cup powdered tempera paint (can be found at most large craft stores, got mine at crafts2000)
1 1/4 cup water
rubbery mold in fun shapes (can be found anywhere- or use the plastic popsicle molds)
Mix the Plaster of Paris and tempera paint in a bowl. Add the water and mix until well blended. Quickly spoon the mixture into the molds. Let the chalk dry for at least 2 hours and then remove the mold. Then happy drawing!
J loving chalk since he was 18 months old (2006)
Z loving chalk since 18 months old too- I think they are wearing the same over alls? (2007)