>> Thursday, June 12, 2008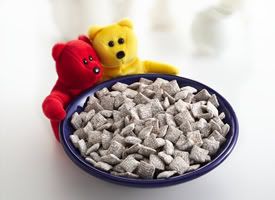 We were outside all day. I was in the garden tilling and pulling weeds, the boys were busy getting filthy. Sometime in the afternoon, the boys were begging for a snack. I needed to make us a quick fuel snack and something yummy. I opted for Muddy Buddies. Infact, as I write, I'm snacking on them. Sooo good!
I'm sure most of you have tried these before, and if not, whip them up immediately. You won't be disapointed!
Muddy Buddies
7 cups Rice Chex Cereal
1 cup Chocolate Chips
1/2 cup peanut butter (I used Great Value Soy Butter from Walmart)
1/4 cup butter
1 teaspoon vanilla
1 1/2 cup powdered sugar
Directions: combine the chocolate chips, peanut butter, butter and vanilla in a microwave bowl. Microwave for about 2 minutes. Stir till creamy then pour over cereal. Stir cereal and chocolate mixture till cereal is covered. Pour cereal into a ziplock bag and add the powdered sugar...then shake and bake baby! Shake till powdered sugar coats the cereal then eat till you can't eat anymore.
You will love it and if you don't, send it to me!!!!