>> Wednesday, April 16, 2008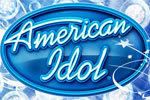 TOP 7 and Mariah Carey Week- Shes so great! So pretty and did anyone notice her "hello kitty" bandaid and candy bracelet? How cool is that?!

David A- I wasn't diggin the leather pants. What?? He's not from a death metal band and he definatly doesn't sound nor look like Axel Rose? He sings good, but like last week, there is something about him that annoys me. I do have to admit that I watch him extra careful for any sign that he forgot the lyrics. ha
Carley- I have always thought that Carley was a great vocalist. Shes good and a bonus...she looked really nice tonight! I didn't really care for all the low notes, but her soprano was right on. Her husband is scary looking and I wish they would stop showing him after her performance. I'm sure he is a great person, but holy cow...it makes me jump and forget her song then he haunts my nightmares.
Syesha- She did really good tonight. It was neat to hear that Mariah wrote the song as a teenager. Wow! Syesha pulled it off great. Looked fantastic and even had sparkles in her hair. Cute! Usually she is in my bottom 3 pick, but not this week (but yet again, Michael Johns wasn't in my bottom 3 last week either)
Brooke-I love Brooke. I love that she plays piano barefoot. I love her bar room voice and I love that shes real. I noticed some piano mistakes which made her get nervous and speed up the song, but thats what being real is about. I hate that there was a 5 minute discussion about "wheres the meat?" hugh?
Kristy- Ugh! I am in amazement that shes signing tonight and Michael Johns is gone. What is wrong with that picture? I thought it was kinda cheesy that she added a steal guitar to her song to try and make it country. It worked, but I don't think kristy is authentic is her country approach. I think she is trying to go for the country auidence votes. Lame! Hopefully she will get the "boot" tonight!
David Cook- I liked Davids re-mix of Mariahs song "You'll always be a apart of me". Definatly up to date with whats hot right now in the music world. Really reminded me of something "Daughtry" would sing.
Jason- I LOVE JASON! With or without his guitar. He ROCKS! I loved the Santana feel to his remake of "I don't wanna Cry". So cool! I can't wait for him to just make a record so I can buy it.